Sahara Industry - Premier Manufacturer of UV Systems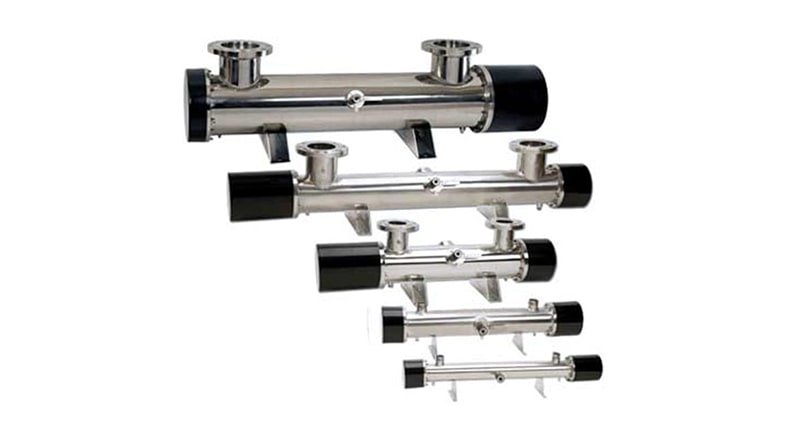 Ultraviolet sterilization is considered to be one of the most effective water treatment methods for disinfection. UV sterilizers work quickly in targeting and stabilizing all biological impurities found in water. Additional chemicals are not needed, therefore saving costs, including containing no danger of overdosing.
Once the sterilization process is complete, up to 99% of germs will be killed in under 10 seconds of exposure to the UV light. Ease of installation, no alteration of pH, taste, and other elements of water gives UV water treatment its esteemed reputation.
With expertise of Sahara Industry ultraviolet water sterilizers, you will receive economical solution that creates value for you while reducing your operating costs for reverse osmosis units.
Applications that commonly use UV water treatment:
Bottled water plants

Surface & Ground water

Dairies

Hospitals

Hydroponics & Farms

Restaurants & Food Products

Water softeners

Cooling tower

Fish hatcheries
Sahara Industry has over 20 years of experience as a world-wide supplier of high quality ultraviolet water sterilizers for microbiological water treatment. UV water treatment systems are designed to eliminate all harmful biological organisms from the water supply. These systems provide users with cost-related, efficiency, and maintenance benefits that ultimately lead to a high return on investment.
REQUEST PRICING
We highly recommend the use of our UV water sterilizer as a post treatment when treating water. All microorganisms are virtually susceptible to ultraviolet disinfection. For every penny of operating cost, hundreds of gallons of water are purified.
No additional chemicals are added and there's no danger of overdosing. Once the water leaves the purifier, it is ready for use with no further contact time required. It is simple to use and easy to install and maintain. Compact units need a small space to operate and store. There are no detections of chlorine taste or corrosion problems.
Sahara Industry UV water sterilizers utilize germicidal ultraviolet lamps that produce short wave radiation lethal to bacteria, viruses and other microorganisms present in water. Ultraviolet water treatment purification is a unique and rapid method of water disinfection without the use of heat or chemicals. Through the years ultraviolet technology has become well established as a method of choice for effective and economical water disinfection.
Sahara Industry ultraviolet water purifier is the ideal solution for an ever growing range of water treatment applications. We provide UV water treatment systems from well known brands like Sterilite and R-Can.
For additional information on what is a UV sterilizer, please refer to our blog section under "Resources."
UV Water Treatment Advantages
Effective: Virtually all microorganisms are susceptible to Sahara Industry ultraviolet disinfection.
Economical: Hundreds of gallons are purified for each penny of operating cost.
Safe: No danger of overdosing, no addition of chemicals.
Fast: Water is ready for use as soon as it leaves the purifier – no further contact time required.
Easy: Simple installation and maintenance. Compact units require minimum space.
Automatic: Provides continuous or intermittent disinfection without special attention or measurement.
Chemical Free: No chlorine taste or corrosion problems.
Versatile: Capacities available from 2 to 800 gallons per minute (g.p.m.).
All lamps used in Sahara Industry units are low pressure type which affords the maximum efficiency in producing the required germicidal rays. In addition to the obvious advantages of high efficiency and low power requirements, there is no possibility of the unit overheating (as is the case with some other lamp types). Consequently, the need for additional equipment to combat overheating is eliminated.
Utilizations
The ultraviolet method of microbiological eradication is commonly used for:
99.9% kill rate on bacteria and viruses.

Maximum pressure: 125 psi

Ambient temperature: 2 – 400 C

Rigid stainless steel or aluminum protective housing.

Seven year warranty on reactor chamber for unparalleled reliability.

Includes mounting clamp and quarts sleeve.