DROPLET STAINLESS STEEL MEMBRANE HOUSING PRESSURE VESSELS FOR COMMERCIAL RO, UF, NF, MF MEMBRANE WATER TREATMENT SYSTEMS
Droplet Stainless Steel Membrane Housing Pressure Vessels offer reliable long-lasting performance in commercial water treatment systems with operating pressure ratings up to 300 psi, allowing you to take full advantage of the membrane capability. Our SS pressure vessels are available in industry-standard sizes for direct connection to most standard membrane elements.
DROPLET stainless steel housings are available in your choice of U-Pin or Clamp-On end plug configurations for fast and easy membrane replacement and maintenance. Offered in industry-standard sizes, these pressure vessels are designed for direct connection to industry-standard membrane elements. Ideal for use in Reverse Osmosis, Microfiltration, Ultrafiltration, and Nanofiltration water treatment systems to treat drinking water and a wide variety of commercial and industrial applications.
Benefits of SS Pressure Vessel Membrane Housings for RO, UF, NF, MF Systems
Reliable and economical pressure vessel

Designed for ease of installation and maintenance

Ideal for pressures up to 300 PSI

Available in 304 or 316 Stainless Steel Body Options

Available in U-Pin or End-Clamp Configuration for Easy Membrane Replacement

Backed by DROPLET's technical expertise and satisfaction guarantee.  AMI Products have earned an industry-wide reputation for their high quality and

Offered in industry-standard sizes for direct connection to most common membrane models up to 4-inch Diameter.
Stainless Steel Pressure Vessel Membrane Housings are used to house Reverse Osmosis (RO), Ultrafiltration (UF), Nanofiltration (NF), and Microfiltration (MF) membrane elements in water treatment systems for applications such as:
Restaurants

Aquariums

Whole House (Residential)

Office

Institutions

Hotels

Hospitals

Disaster Relief

Spot Free Rinse/Car Wash

Labs

Pharmaceutical

Humidification

Misting

Manufacturing

Rinse Water

Bottled Water

Water stores

Beverage

Food Processing

Ice Makers

Commercial Water Treatment

Ice Makers

Wide Variety of Other Applications
2″ Diameter U-Pin SS Housings
2.5″ Diameter U-Pin SS Housings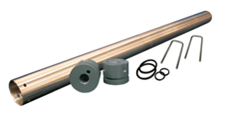 4″ Diameter U-Pin SS Housings
2.5″ Diameter Clamp-On SS Housings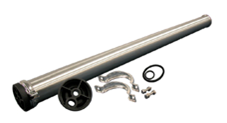 4″ Diameter Clamp-On SS Housings