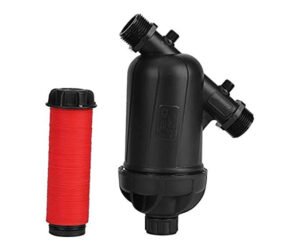 Disk Filter are Suitable for use as a primary filtration device in small farm holdings. Made from special, chemically bonded polymer for durability. Easy to install and low maintenance.
Features
Disk Filter designed for Pressure rating PN8 (8bar)

2 male threaded pressure port at the top for easy visiblity of pressure.

Disc Filter cartridge enabled with spring loaded for full compressionn of disc andloosen during cleaning.

Disk Filter with Clogging indicator, Red pop up comes out at x 0.6 kg/cm² pressure differential, indicated end user to clean filter manually.

During cleaning operation, all inlet water passes through the pipe, and water jets removes dirt from the discs.

Barrel with 1½" Drain port.

Handle for 90 degree rotation for cleaning of disc without dismantling of filter.

Disc housing fan gives hydro cyclonic effect which makes particles in suspension that reduces cleaning frequency.

Grooved disc design with dimensional consistency proven with more than 95% filter efficiency
Cleaning Instructions
Cleaning of the disk filter must be done when pressure differential across the disc reaches 0.6 kg/cm2(8.5psi) or when the clogging indicator red button pops up.

To start cleaning mode of disk filter, turn the handle (top of the filter) 900 degree in clockwise direction.

Cleaning operation starts, system pressure might increase during cleaing operation.

When cleaning operation done, first filter handle direction should be at filtration mode. And then flushing valve gradually close.
In case the the disk filter is still clogged (pressure indicator button is up). Repeat the above steps for effective disc cleaning.
                                                           Disc Filter 130 micron

                Connection
 

Maximum Recommended  Flow Rate

                   3/4″
                 5 m3/hr
                   1″
                 6 m3/hr
                 1 1/2″
                  14 m3/hr
                   2″
                   25 m3/hr
Performance Data
Model
134T-SAD
136T-SAD
Max. Working Pressure
8 kg/cm2
8 kg/cm2
Recommended flow
417 lit/m (25m3/hr)
667 lit/m (40 m3/hr)
Range of Flow Rate
18-27 m3/hr
35-50 m3/hr
Filter Disc (standard)
120 mesh PP Red disc (Single Removable cartridge)
Filtration Surface area
1080 cm2
1590 cm2
Inlet/outlet connection
2″ BSP/NPT male thread
3″ BSP/NPT male thread
Closing System
Stainless Steel / Hybrid Clamp
Distance between End connections
341 mm
344 mm
Filter height (With Ball Valve)
800 mm
930 mm
Filter width (With End Plug)
235 mm
235 mm
Cartridge Diameter
121 mm
121 mm
Cartridge Length
375 mm
510 mm
Drain Valve (1no.)
1½" Female x Female threaded
End Plugs (1nos.)
¾" Male Threaded