Smooth / Glossy Finishing FRP Pressure Vessels
Smooth and Glossy Finishing FRP Pressure Vessels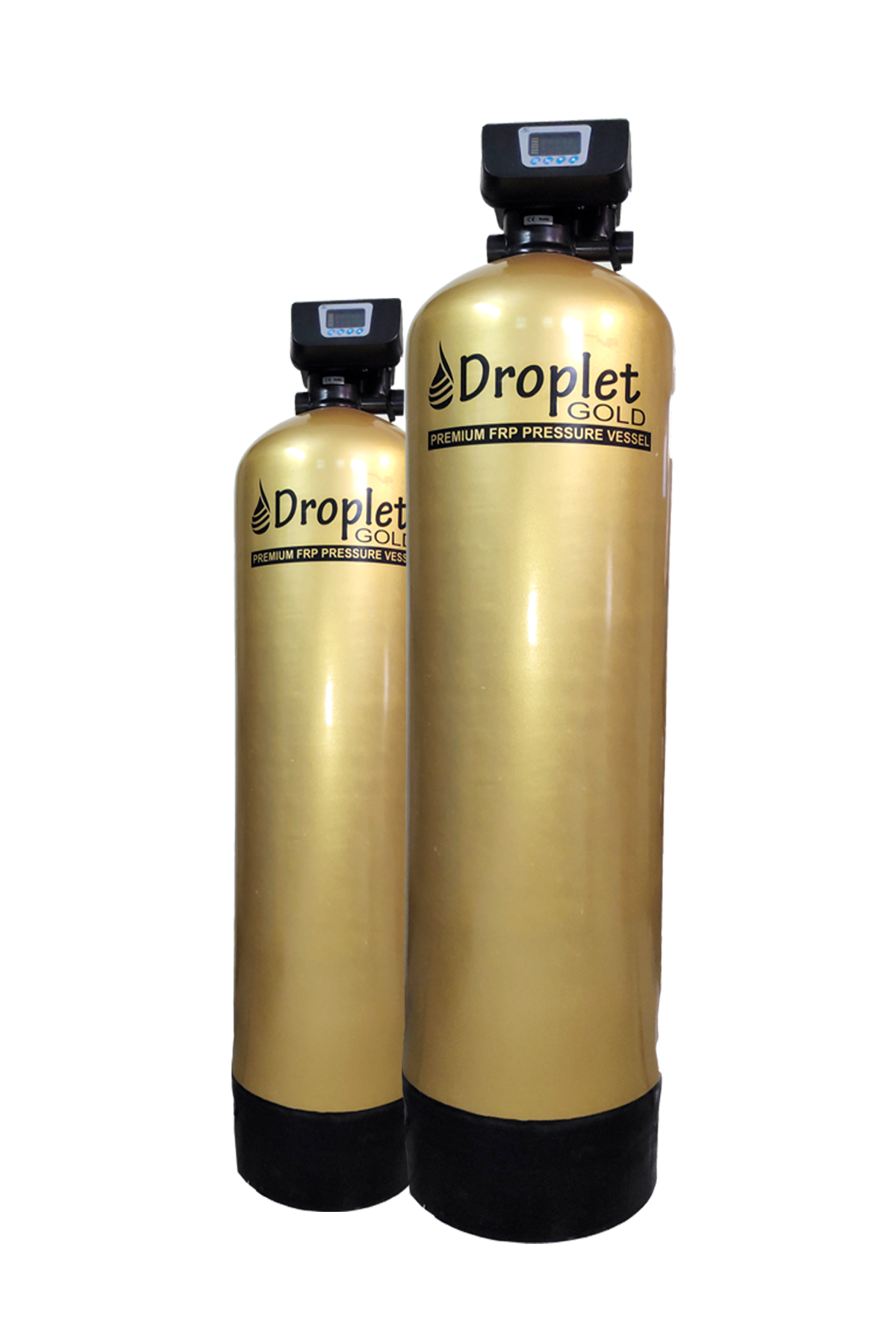 Glossy Finishing FRP Pressure Vessels
World's First & Only Smooth finish / Glossy Finishing FRP Pressure Vessels Manufactures.
SAHARA INDUSTRY offers a wide range of FRP Composite pressure vessels for the Water and desalination industry Our DROPLET  range of Composite pressure vessels are manufactured on highly sophisticated CNC controlled automatic machines promising same repeatability and precision quality over wide range of models. DROPLET  vessels are manufactured in LDPE as well as FRP liner option. DROPLET  LDPE liner vessels are standard vessels made up of virgin quality natural color LDPE material which ensures no algae formation in longer usage.
The top and bottom threaded adaptors are made up of high-quality glass filled HDPE to ensure more strength at threaded portions. DROPLET  FRP liner vessels are typically used for non -standard customized pressure vessels. For more than a decade, this has been our USP. We can offer customized vessels from 250 dia to 1600 dia with a height of up to 4 meter. Apart from size customizations vessels can be offered with options like Sight glass, lateral opening, flanged opening with blind flange for HAND/MANHOLE, etc.
All DROPLET (R) Vessels are externally reinforced with FRP filament winding laid accurately using modern fully automatic filament winding machine. The helical + hoop winding combination enables us to offer test pressure vessel up to 10 bar with burst pressure of up to 40 bar. We can also offer higher rating customized pressure rating vessels as per requirements.
Salient Features
Designed in Compliance with ASME / NSF / EN13121

Completely customized vessels can be offered

Smooth finished LDPE/FRP liners

High performance FRP filament wound outer shell

Top and Side manhole for easy filling and removal of media

Sight glass to examine process operation during service, regeneration and backwash

Inlet and outlet flanges are compatible with standard PP top distributors and bottom collectors

100% corrosion resistance

Light weight and easy to install at site

Each and every vessel is hydrotested at rated pressure

Unique identification number facilitates complete traceability for raw material & its authentication.
Application
Pressure sand filter

Activated carbon filters

DM plants

Pre-treatment of RO plants

Custom made Mixed Bed vessels

Horizontal Pressure vessels for large flow rate filters and Package STP plants

Non-pressure applications like storage tanks for corrosive chemicals.