High Flow Filtration Systems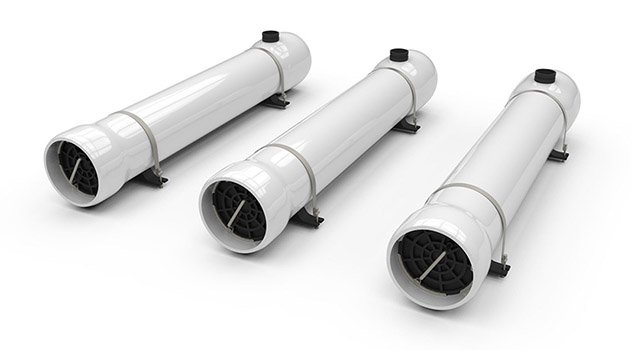 High flow filtration Systems FEATURES
High flow filtration with a wide range of cartridge micron rating to suit your application

High-performance pleated media filtration technology

Long-lasting rugged FRP housings from Droplet, available in 150 & 300 psi pressure rating

ASME complaint FRP housings for critical applications

Labor-saving quick module change
Sahara Industry's corrosion resistance and high flow rates have brought this filtration concept to a wide range of industries, including electronics, oil & gas, chemicals, pharmaceutical, food & beverage, desalination etc. Sahara Industry is widely used for particulate filtration in the pretreatment for RO systems.
Sahara Industry housings are 8" diameter FRP housings with a rugged construction that secure long-lasting performance. They deliver superior flow rates and are a cost-effective alternative to steel equivalents.
High capacity Sahara Industry pleated cartridges are 6.5" in diameter & 60" long and made of superior polypropylene media. The pleated construction with an outside in flow provides maximum flow rates with the lowest possible pressure drop. Minor filter change-outs saves cartridge cost and labor.
Sahara Industry saves time and money in several ways. In vertical use it saves valuable floor space. The housings feature the Droplet quick-change design allowing operators to access and change cartridges in a matter of minutes without disassembly. The time to change an Sahara Industry cartridge with a flow rate of 150 gpm is typically 5 minutes, versus 30 minutes for standard multi-round housings with the same flow rates. A single element can be changed while the system stays online, eliminating the additional cost associated with downtime.
Droplet develops innovative solutions that meet both regulatory and financial KPIs. The Droplet scope consists of the filtration solutions with Sahara Industry housings and cartridges. About our housings:
Rugged 8″ FRP shell complies with ASME-X

Qualification pressure = 6X operating pressure

Lightweight construction for easy handling

Can be installed vertically or horizontally, as convenient
About our cartridges:
Made from high-performance polypropylene media

6.75″pleated construction features 15 times more surface area

Extended surface area provides long life & fewer change-outs

Outside-in design for high flows at low differential pressures
Sahara Industry was developed for RO pre-filtration in industrial applications. The Sahara Industry media filtration modules provide long-lasting performance and are applied in a range of industries and application areas. Including desalination, electronics, oil & gas, chemicals, pharmaceutical, magnetic media, pre-filter for RO systems, ink, cosmetics, photographic, bleach, healthcare & hospitality, pharmaceuticals and food & beverage.