Swimming Pool Filtration Tanks
Leading Manufacturer of Swimming Pool Filtration Tanks - Sahara Industry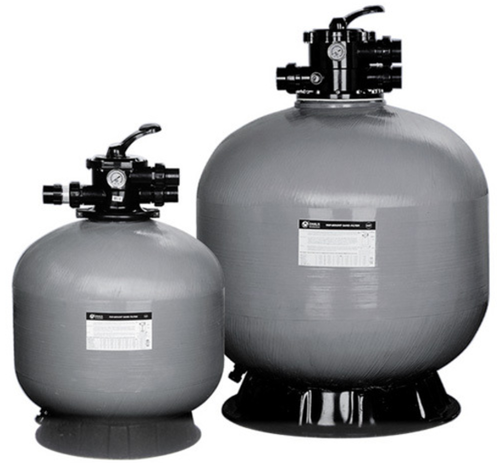 Swimming pool filtration tanks are manufactured with high-grade fiberglass and isophthalic resin. These filters are heavy-duty and combine the world's best filtration technology. Pool filter series are designed as a high rate pool filtration system and manufactured using the highest grade of fiberglass composite material. These pool filters have high strength and are durable.
WHY SAHARA Swimming pool filtration tanks?
Sturdy Tank.

High Winding Strength.

Frp body with external smooth finished winding.

UV stabilized body.

Easy to clean.

Complete Filtration System
Swimming Pool Filtration Tanks

Features
Filter made of fiberglass and polyester resin with bobbin wound.

The top diffuser ensures even distribution of water over the top of the sand bed.

Air release valve enables easy release of trapped air during operation of the filter.

The materials used are dependable, non-corrosive, and suitable for all weather conditions.

Easy to use water drain plug.

Mul-port valve allows selecting any of the valves/ filter operations With a simple lever action.

UV resistant surface.
Maximum working Pressure: 250kpa/ 36psi/ 2.5bar or 400kpa/ 58psi/ 4.0bar
Factory Testing Pressure: 400kpa/ 58psi/ 4.0bar or 600kpa/ 86psi/ 6.0 bar
Size of Silica Sand: 0.4 – 0.8 mm
Maximum Filtration Velocity: 50m/hr
Maximum Water Temperature: 49 C(120 F)
APPLICATION
These are specialist's production of bobbin wounds with e glass roving and resin isophthalic sand filters for commercial and communal swimming-pools, aqua parks, water treatment plants, aquariums, etc.
Sahara Industry a company devoted to Water Treatment in India, offers the latest in Pool & Spa technology. We offer a large variety of Pools & Spas including In ground Pools, Semi ground Pools, Concrete & Liner Pools, Portable & In ground Spas, Pool Filtration Systems, Dosing Systems & Accessories.
Today, we not only deal in complete range of swimming pools & Swimming Pool Filters but also take up turnkey jobs of swimming pools, Jacuzzi / spas right from conceptualising to installation. Our Technically qualified Engineers and Architects look after the projects; maintain high standards during manufacturing, construction and installation, guaranteeing clients a success in their ventures.
Our structures vary according to the type of soil on which the pool is built. We offer pools in any shape, size or depth, thanks to the Surflo systems we offer, the most innovative technology in the industry.
As for water circulation and surface cleaning, our technologies have been widely tested in the market; the skimmer and level deck techniques ensure perfect water quality at all times.
Swimming Pool Filtration is an essential operation in the Pool working and is guaranteed by our range of high-efficiency Pool filters and pumps with up-to-date pre-filters and other special components.
For Pool disinfection, we offer world class dosing systems, to maintain hygiene of the pool.
Swimming Pool Filtration, disinfection and cleaning of the pool can be fully automated, thereby enabling your swimming pool to be in operation virtually independent.
Regarding the aesthetics, internal lighting is available either with optical fibres or with transformed lamps. The exterior flooring incorporates the craftsmanship of paving blocks/granite sculptors, which render a magical finishing touch. We also ensure the supply and installation of the most reliable products in the market.
The areas of application include
Raw Water Treatment

Waste Water Treatment

Reverse Osmosis

Ultra Filtration

Cooling Water Treatment

Boiler Feed Treatment
Typical Dosing systems consist of Metering type pumps with varied material of construction to suit the chemical handling. All Dosing Systems can be upgraded to a high level of automation for link up to a localized PLC or client's DCS as required.
Pre-engineered designs conform to International safety norms with respective to spillage and containment.
Surflo System
The SURFLO system is based on the following established facts:
The diseases contracted by bathers are chiefly those of the eyes, ears, nose, and throat.

The most potent germ-carrier is floating mucus.

Maximum pollution occurs at the surface of the water.

One of the most important safeguards is the maintenance of satisfactory chlorine residual in every part of the bath.
This is achieved by drawing water continuously from the pool, passing it through a purification plant and returning to the pool. The purification process consists of removal of suspended matter and colour, and destruction of bacteria by sterlisation.
Water is to be collected from the pool by the channels formed along the perimeter of the pool. The water overflowing in these channels is supposed to produce a constant skimming effect on the surface, to carry away the dangerous floating mucous and other material.
We Offer the below Swimming Pool Equipment in India:
Swimming Pool Installation

Swimming Pool Filtration Systems

Swimming Pool Filtration Plants

Swimming Pool Dosing Systems

Swimming Pool Filter Sand

Swimming Pool suction sweeper

Swimming Pool accessories
Fluid Systems offers Chemical handling and Dosing Systems for dosing Coagulants like Lime. Ferrous Sulfate, PAC, Alum and Feed Conditioning chemicals like Anti-scalant, Antioxidant, Membrane cleaners etc. Dosing systems are Skid mounted, compact and rugged, engineered to handle and work efficiently under highly corrosive and varying conditions.