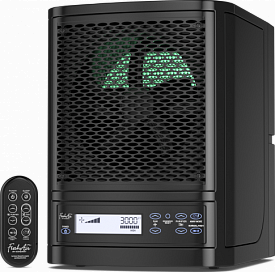 DROPLET, the pioneers in "Ozone Technology" in India which is one of the most advanced ceramic coating technologies in the world proudly introduces – "Advanced ceramic electrode-based Ozone Generators". DROPLET  is the only company in India to manufacture ozone generators based on ceramic electrodes which are manufactured in-house and not imported or bought out.
DROPLET  has researched & developed the Ceramic Electrodes which are coated with D-Gun and which has the highest dielectric strength. These ceramic electrodes are utilized to produce the highest concentration of Ozone.
Currently, in India Ozone generators are manufactured with glass electrodes that have very low concentration & reliability. On the other hand, ceramic electrodes produce high concentration ozone occupying very little space and consuming less power.
SHAFER TECH the parent company of Droplet was the first company to introduce D-Gun (Detonation Spray Coating) in India 17 years ago SHAFEL TECH is an ISO 9001:2008 certified company established in May 2000 Culture.
The culture of TES is to inspire and experiment with new ideas and innovations, and to develop concepts into tangible results.
Consistent product quality coupled with timely & innovative solutions has placed TES as the fastest-growing Ozone Generator manufacturer in India. With extensive experience in manufacturing high concentration, large capacity ozone Generators (10 kg capacity & above).
TES has the solution for all water, wastewater, effluent & sewage treatment with respect to Ozone Technology. Research & Development with various Academic Institutions & Research Centers to constantly innovate & improvise in search of solutions for various application requirements is part & parcel of its work culture.